Your Condom Machine



Welcome to Your Condom Machine - Where you can get your own working condom machine
with your choice of product and decal. You can customize the look of your condom
machine with a choice of 3 different machines and a variety of different decals to
select from. You also select the type of product for your machine. Perfect for
fraternities, sororities, swingers clubs, or for individuals who want to stand out from
the crowd. Everyone is sure to be amazed when they see that you have your own
condom machine! They are sure to think you are some kind of legendary lover,
and now you will always be prepared - no more late night trips to the store.
Machine Inventory is limited, and once they are gone....they are gone!
Get yours while you can!
A sample of many of the different decals to choose from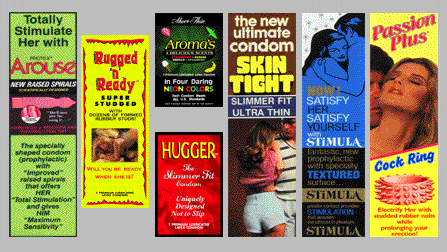 ? QUESTIONS ? - e-mail me - yourmachine@excite.com
These condom machines are perfect for dispensing condoms in fraternities, sororities, and swingers clubs.They are also great for gay clubs and gay communities.
I would like to exchange links with swingers club listings and sites that deal with sex toys, nude women and nude men. These condom machines are also great for
collectors of antiques and novelties. Are you wanting rubbers, condoms, or sexual items? We have different colors of condom machines and many different kinds
of condoms. Your swingers club or fraternity would probably love to have a CONDOM MACHINE! And they make great collectors items. Besides having condoms,
these condom machine also vend novelties. Where else can you find condom vending machines that you can actually get condoms for too? You can choose plain
decals or one that has naked women on them. Do you know any swingers or swingers clubs? If so please tell them where they can get their own condom
machine. And the same with the gay community. Do you belong to a fraternity or sorority? If so, I'm sure they would love to have a condom machine. Anyone that
is a sexual person would probably want one. Some decals are plain and others have have half naked women, so you can choose which ever you like. I'm sure gay
couples or gay singles would also like to have a condom machine. So, please tell the gay community wher they can find a great supply of condoms. And the same
goes for the swingers and swingers clubs and communities.Now you can have condoms when ever you need them - in your own condom machine.If you do decide
to purchase a condom machine you can also purchase condoms to refill your machine anytime.